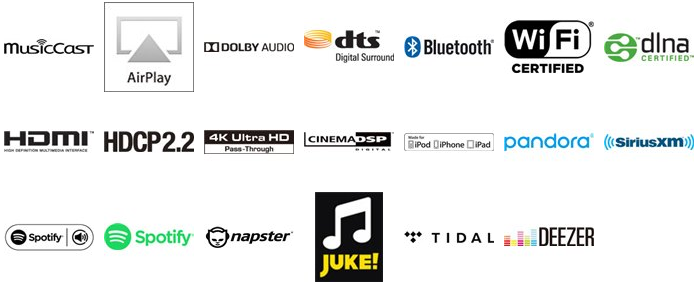 Yamaha forma parte de los pioneros en esto de las barras de sonido, y su experiencia en este campo es algo a tener muy en cuenta. La Yamaha YSP-1600 forma parte de la gama más prestigiosa de barras de sonido de la compañía, las YSP, reconocidas por su tecnología Beam, consistente en proyectar el sonido, hacerlo rebotar en las paredes y generar un efecto envolvente similar al de un equipo 5.1 con altavoces dedicados.
Stylishly slim Soundbar featuring Digital Sound Projector technology for real 5.1ch surround sound. MusicCast for enjoying a variety of music sources anywhere in your house. HDCP2.2 compliant HDMI supports 4K Ultra HD input.
MusicCast for audio enjoyment in every room
Compatible with various music streaming services
Digital Sound Projector technology with eight array speakers reproduces true 5.1ch surround sound
Dual upward-facing built-in subwoofers with bass reflex ports deliver high response and clear bass sound
Provides a choice of five CINEMA DSP programmes
Compatible with DTS and Dolby Digital
Supported high resolution audio codec: Flac/WAV/AIFF 192khz, Apple lossless 96kHz
HOME THEATER CONTROLLER (WLAN) app enables detailed settings and easy operation
---Beam setup for adjustment of beam directionality for room size and listening position
Bluetooth® for wireless music streaming (SBC/AAC)
AirPlay® allows music streaming from Mac, PC, iPod, iPhone, iPad
Supports Bluetooth output for pairing YSP-1600 and other Bluetooth equipped products
HDMI input with 4K60p Pass through and HDCP2.2
OSD supports overlay and ten languages
HDMI CEC and Audio Return Channel compatibility
Subwoofer output terminal
Slim cabinet design: height is only 6.5cm (2-1/2")
MusicCast
MusicCast is a new revolution in network audio, use all your MusicCast products together or separately, it's completely up to you. Control it, all from one app, designed to be intuitive, quick and simple to use. Use a soundbar, a wireless speaker, an AV Receiver, HiFi audio whichever suits you best, mix and match then expand your MusicCast system as time goes on. All new from Yamaha, the MusicCast system brings everything to everywhere for everyone.
Digital Sound Projector Technology Delivers True Surround Sound
Yamaha's unique Digital Sound Projector technology achieves actual (not virtual) surround sound in your home theatre. Eight 2.8cm (1-1/8") high quality array speakers create beams of sound that are precisely time- and direction controlled using digital signal processing. The sound reflects off the walls, enveloping you in true surround sound. Beam positions can be adjusted using the remote control or a smartphone app, allowing many people to enjoy the realistic, expansive sound.
True Realism and Powerful Surround Sound from a Slim Body
The slim body makes it extremely easy to position the unit in front of a TV, ensuring that the screen is not blocked. The 76W digital amplifier, eight beam speakers and two built-in subwoofers produce truly high quality surround sound from your TV, smartphone or other source.
Dos subwoofers integrados que garantizan potentes graves
La YAS-105 dispone de dos subwoofers integrados orientados hacia arriba. Aunque no use un subwoofer independiente, disfrutará de potentes graves. Además, al emitir el sonido hacia arriba, la respuesta de graves es muy rápida e impactante. Y con la música, las notas y el ritmo de los graves se reproducen con gran precisión.
Streaming inalámbrico de música por Bluetooth o AirPlay desde un smartphone o tablet
Podrá disfrutar de forma inalámbrica del sonido de la música o de las películas de su smartphone o tablet. Mirando la pantalla, podrá realizar fácilmente operaciones de selección, reproducción y parada y disfrutar del potente sonido de la YSP-1600. También hay un modo de espera Bluetooth que, mediante el establecimiento de un vínculo con la activación/desactivación Bluetooth a través del terminal, ofrece la comodidad de poder encender y apagar automáticamente la YSP-1600.
Ademas podes pasar musica por streaming desde la YSP-1600 hacia tus auriculares o parlantes inalambricos.
HDMI Terminal and 4K Ultra HD Full Support with 4K60p, HDCP2.2
The YSP-1600 completely supports the latest HDMI standards. Thanks to transmission of 4K video at 60 frames per second pass-through, you can fully enjoy the high definition video quality of 4K without degradation. It also adheres to the HDCP2.2 copyright protection standard for 4K video transmission.
CARACTERISTICAS

• Potencia de Salida:

80 W Total Power
2,5W x 8 + 60 W Subwoofer

• Consumo:

25W

• Consumo en StandBy:

0,4 W

• Subwoofer:

Dual de 3 1/4"

• Digital Optica:

1 entrada.

• HDMl:

1 entrada. 1 salida.
4K Pass Through
3D Pass Through
ARC
CEC
Auto Lip-Sync

• Audio Analogo:

1 entrada. (Stereo Mini Jack)

• Salida de Subwoofer:

1

• Tecnologia Surround:

Si. Digital Sound Projector.

• Cinema DSP Movie:

1

• Cinema DSP Music:

1

• Cinema DSP Entertainment:

1

• Dolby Digital:

Si

• Dolby Pro Logic II:

Si

• DTS:

Si

• Streaming Inalambrico:

Si (Bluetooth y Wi-Fi)

• Wi-Fi:

Si. Wireless Direct

• AirPlay:

Si

• Ethernet:

Si
DIMENSIONES

• Ancho (mm.)

1000 mm.

• Alto (mm.)

65 mm.

• Profundidad (mm.)

130 mm.

• Peso (Kg.)

4,7 kg.